Hilltop Lookout, The Giant Tingle Tree & Circular Pool
Each of these attractions are accessed by taking Hilltop Rd 2kms east of Walpole; it is a gravel road but safe for 2 wheel drive vehicles to use.
Hilltop Lookout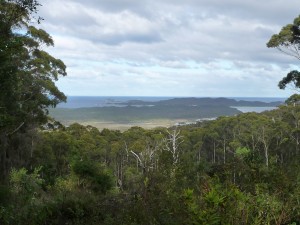 Hilltop Lookout is the first stop; from here there are spectacular views over the Frankland River, Nornalup Inlet, Southern Ocean & the surrounding forest.
A few kilometres further along Hilltop Rd is the car park for the Giant Tingle Tree and then the final stop is Circular Pool which is well signposted. The return journey from Circular Pool is via Allen Road.
The Giant Tingle Tree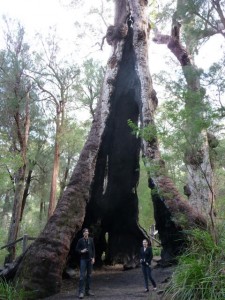 The Giant Tingle is estimated to be 300 years old it has a girth of 24 metres making it one of the largest trees in existence. This giant is a Red Tingle found only in the forests surrounding Walpole. The tree was damaged by fire in 1937 & 1951 and even though it is hollowed out continues to survive today. The Giant Tingle Tree is 800m return walk on a loop trail. There are toilet facilities here.
Circular Pool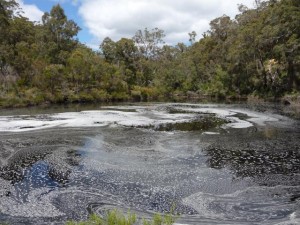 Circular Pool is a large pool located on the Frankland River; the name is derived from the circular motion that the cappuccino coloured foam makes around the pool.  The foam is created by tannins leaching into the river from native vegetation. There are several viewing platforms and wheelchair access is available. Circular Pool is most spectacular after heavy rains in Winter & Spring. There are toilet facilities here as well as several spots that would be ideal for a picnic.