The Knolls & Coalmine Beach Heritage Trail
The Knolls can easily be accessed by car but a much better way to do it is either on foot or by bike.  We got our Mountain Bikes out and headed off from the Walpole Lodge and joined the Coalmine Beach Heritage Trail where it meets with the Bibbulmun Track. The track is dual-use here so it is ok to ride bikes on it. The track is in good condition; except for a sandy section right at the start.
Last time we had headed over this way we had seen a Quokka and were hopeful of seeing more fauna this time. Unfortunately we only saw a Blue Wren and some cockatoos.
It is only a 10 minute cycle over to Coalmine Beach and depending on the wind direction a good safe place to cool off. There are a couple of BBQs, toilet block and outdoor shower that would make this a good place to have a picnic and spend the afternoon at the beach.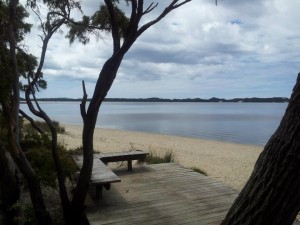 We continued on to the road around the Knolls. The road is one way only and whilst vehicles do use it we didn't encounter any today. There is a lookout over the Nornalup Inlet which we stopped at and another two spots which have car parking and steps down to the water's edge for fishing. The Channels is the next spot we came across; this is the channel between the Nornalup & Walpole Inlets.  We have been fishing here in the past and it's a good spot for Black Bream, Herring & Skippy.  The Channels also has a gas BBQ and toilet block. Continuing around the Knolls we reached another lookout; this time over the Walpole Inlet and through the trees could see Rest Point, The Lady Walpole and the Walpole Town Site.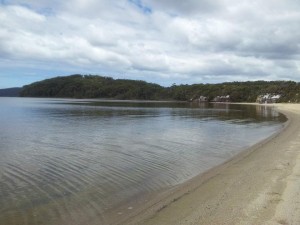 We reached the turn-off for the Coalmine Beach Heritage Trail and returned back to the Walpole Lodge
Even with a couple of stops the ride around the Knolls and Coalmine Beach Heritage Trail only took us 45 minutes. Next time we will stop for a picnic and maybe a swim!