Mount Frankland & Fernhook Falls
Located in the Mount Frankland National Park just north of Walpole, Mount Frankland & Fernhook Falls are worth spending a few hours exploring.
Mount Frankland
Mount Frankland is 410m high and the short but steep loop walk takes you to the peak for fantastic views of the karri forest and Frankland River below. Combining a walk around the base of the granite mount, surrounded by towering karri forest and superb summit views this trail is sure to impress.  The walk to the summit is 1km with the walk around the base being 1.5km. You do not need climbing experience to reach the summit; just a reasonable level of fitness as there are 240 steps and a couple of ladders.
Fernhook Falls
Fernhook Falls is an attractive bush camping and picnic spot on Deep River. Deep River is one of the few rivers in the south-west within an almost completely forested catchment. As a result, although heavily loaded with organic tannins, the water is of high quality. There is a walk trail and boardwalk that follow the Deep River giving great views of the falls. Part of the walk trail is universally accessible.  Spectacular in winter when it flows in heavy torrents, the falls spill down over granite rocks and into Rowels Po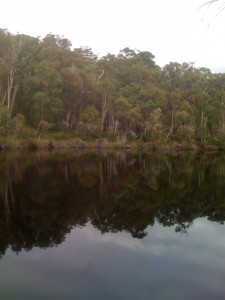 ol.
From Rowells Pool you can canoe/kayak down the river all the way to the South West Highway a distance of 38.9km – this would take 3 days with overnight camps at Gladstone Falls & Centre Road. The water levels are only high enough between June & November.
Fernhook Falls offers tent sites, camp huts, picnic tables and campers' kitchen set among the forest.
There are excellent BBQ and toilet facilities at both of these attractions, but we normally finish our visit with lunch at the Thurlby Herb Farm.